December 16, 2015 8:06 pm
Argentina to relax foreign exchange controls
16 December 2015

From the section

Business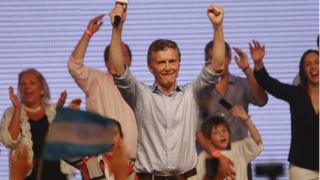 Argentina is to announce a relaxation of currency controls, the government has said, which experts say is likely to weaken the peso.
President Mauricio Macri hopes the move will boost exports and spark economic growth.
Farmers in the country have been waiting for the currency to fall before selling stockpiles of soybeans.
The official exchange rate of 10 pesos to the dollar is not matched by a much stronger the black market rate.
Analysts expect the official rate to weaken to between 13.5 and 15.00 per dollar, in line with the black market rate.
The country's previous leader, Cristina Fernandez, used central bank reserves to prop up the peso.
But Mr Macri, who was elected last month and inaugurated on Thursday, had vowed to change the policy.
He is expected to allow businesses and individuals freer access to US dollars. Argentina has been plagued by high inflation and financial volatility in recent decades.
Categorised in:
This post was written by FSB News