April 4, 2016 11:49 am
Alaska Air to acquire Virgin America in $4bn deal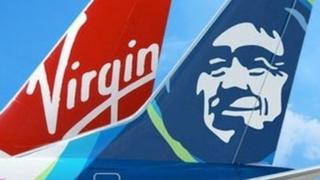 Alaska Air Group has agreed to buy Virgin America in a $4bn (£2.8bn) deal to create the fifth largest US airline.
It will enable Seattle-based Alaska to expand into lucrative hubs such as San Francisco and Los Angeles.
The two boards "unanimously approved" the deal, which will see Alaska acquire Virgin America for $57 (£40) a share.
It is the first US commercial airline merger since US Airways and American Airlines combined in 2013 to make the world's largest carrier.
Virgin America, which accounts for about 1.5% of US domestic flight capacity, was listed on the US stock market in 2014 as an offshoot of London-based Virgin Group.
Alaska and its partner regional airlines, which in total account for about 5% of US domestic flight capacity, serve more than 100 cities in the US, Canada, Costa Rica and Mexico.
If the deal gets approval from US government regulators and Virgin America shareholders, the companies expect to complete the transaction by 1 January 2017.
Brad Tilden, chairman and chief executive of Alaska Air Group, said: "With our expanded network and strong presence in California, we'll offer customers more attractive flight options for non-stop travel."
Categorised in:
This post was written by FSB News