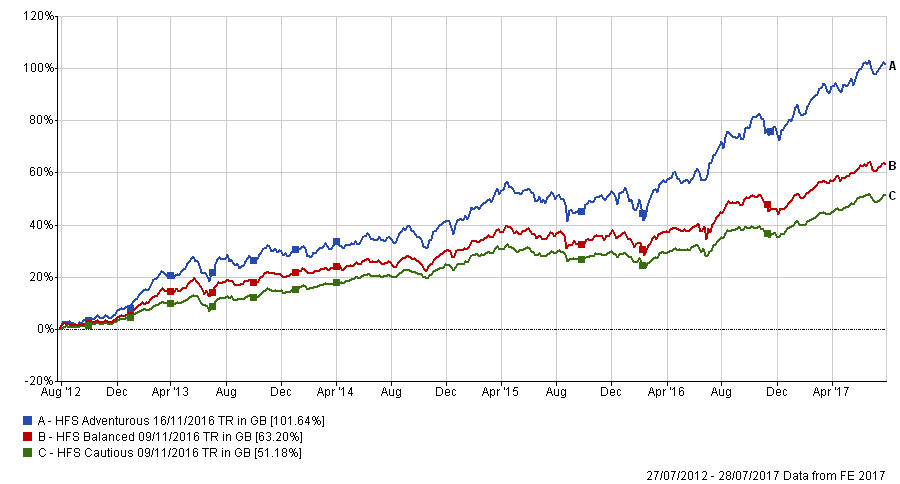 July 31, 2017 10:28 am
We're delighted that as four of our core portfolios reach their five year anniversary, they have each consistently out-performed the market.
The success of these four – HFS Balanced, HFS Cautious, HFS Growth and HFS Adventurous – is, we believe, down to the approach we have at Hartsfield to investing, which has brought rewards for our clients.
We oversee a rigorous fund due diligence process to determine fund selection, and this due diligence is dynamic and ongoing as we monitor selected investments continually.
As a company, we are completely independent and have no bias towards any investment house, which means we can consider a very wide range of funds for inclusion in each asset class.
We maintain a tight shortlist of approved funds, reflecting our faith in these fund managers. Managing downside risk is crucial to us, as is examining the portfolio skill of the managers – we rank funds according to key ratios and our proprietary investment research methodology.
Our robust investment process has not changed and is proven over time – we don't go in for chopping and changing and following the herd. We seek to produce superior risk adjusted returns over the long-term and give credence to 'fads'. This also means we avoid 'market noise' and making kneejerk reactions based on news or major market events.
Finally, we embrace behavioural economics and our portfolios are constructed with these principles in mind .
If you would like to chat further about our core portfolios, or investments in general, please get in touch with the experienced team here at Hartsfield Financial Services.
Categorised in: Investments
This post was written by Melanie Dolphin